Faster to contract conclusion: accelerate your business
with MOXIS
now!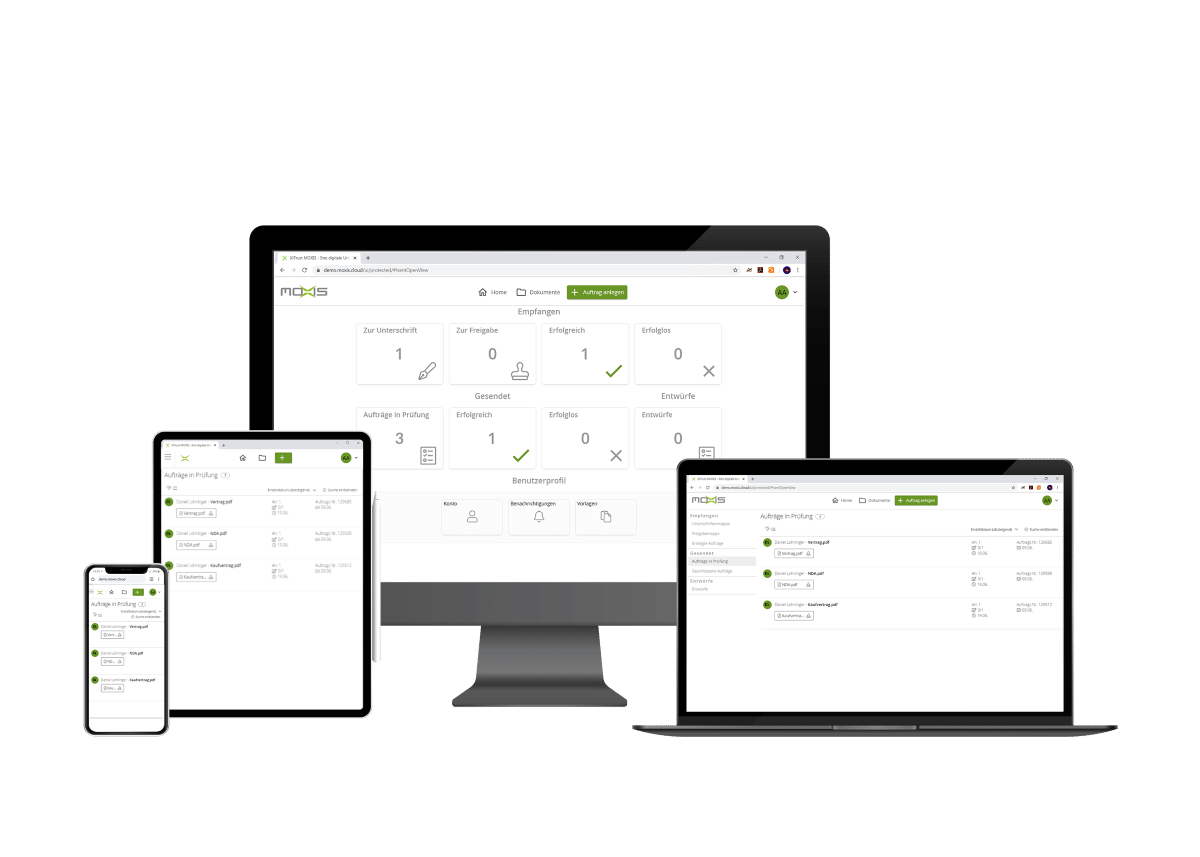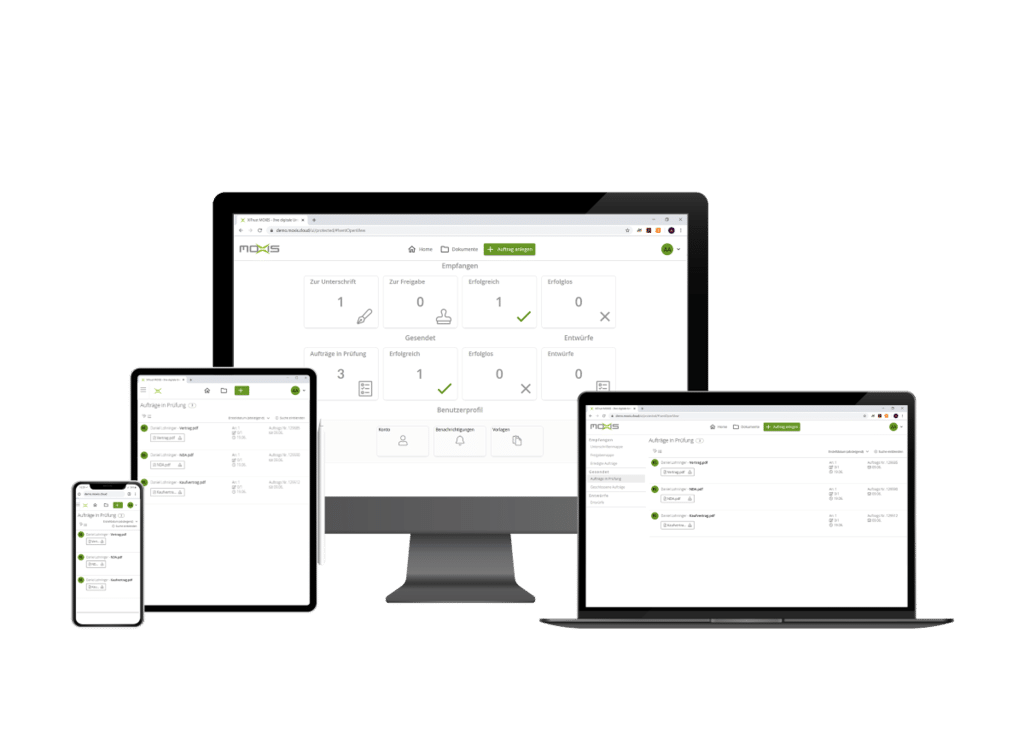 Total cost savings per year in the company
Savings per contract document (personnel, paper, archiving, …)
Acceleration of your signature processes
The new
Features & Functions
With the new form fields function, you can not only assign existing form fields to a specific person. Now you can also attach your own form fields and thus also design the document yourself.
You have every option from simple check boxes to individually sized text fields.
The attached form fields can still be assigned to a person in advance or you can prepare your document and assign individual fields afterwards.
There are no limits to your design.
The new biometrics feature gives you the possibility to record even standard electronic signatures in a person-related way.
By ticking the box in the process management, you can activate biometric data recording. This changes the signature quality from a simple electronic signature to an advanced electronic signature.
This also gives you an additional security feature in the approval process.
In addition, there are also many other innovations on the landing page that will make it easier for you to handle, understand and work with MOXIS.
Simply submit a request and you will soon be able to enjoy even more efficient work.
MOXIS offers you a wealth of different features and functions that have been specially designed for the requirements of enterprise-grade companies – no wishes remain unfulfilled!
Batch function
Conveniently sign multiple documents in just one signature process.
Form fields
Fill your documents with various form fields.
Workflows
Map every imaginable signature workflow in your organization using decision levels.
Placeholders, role concept, substitute regulation and much more – discover the full range of features in MOXIS!
Security & legal validity
.
MOXIS offers complete traceability and uses two-factor authentication. The eSignature platform meets the requirements of eIDAS, GDPR as well as the Swiss legislation on data protection and electronic signatures (E-DSG, ZertES).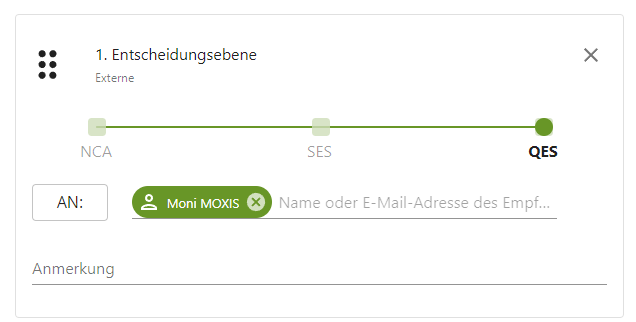 User-friendly features make MOXIS your daily companion for eSignatures.
Intelligent tools
Workflows, batch function, templates, placeholders or even the entire signature folder can be operated via the API
Keep your existing applications
You can seamlessly integrate MOXIS into your tried-and-tested tools and continue to work with them as usual
Integrated support
If you get stuck, you will find the fastest and best solution together with our support team
All you can sign: qualified electronic signatures included. With MOXIS you can rely on having your costs fixed.
Batch function
Conveniently sign multiple documents in one signature process.
Enterprise features
Even with the minimum package, you can expect the highest level of functional variety.
Cost transparency
You always keep an eye on your costs – you have full control over your licenses.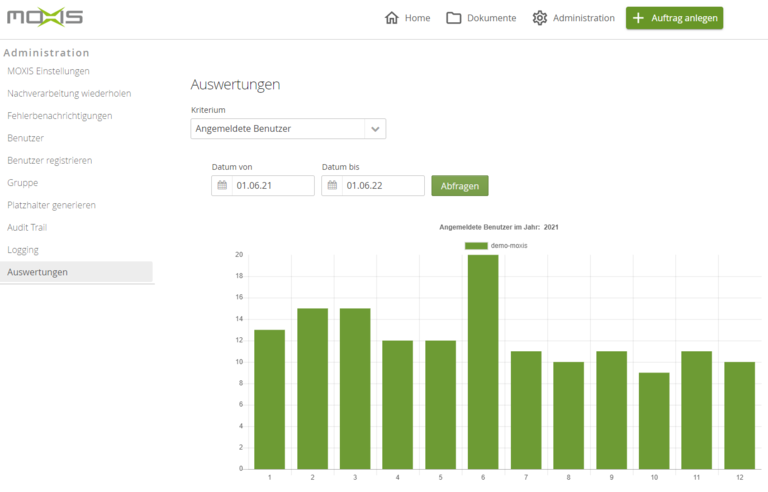 Workflows adapt to your processes
Our API enables a convenient integration
Map roles and groups easily
We are there when you need help
Process SES/AES and QES in batch
Fulfillment of all requirements of the eIDAS and ZertES regulations
Enrich your documents with form fields
Hosting On-Premises and (private) cloud possible
Become a member of the XiTrust User Group and find out all the news about upcoming releases, product features and use cases as well as other news about MOXIS and the topic of electronic signatures! As part of our community you will also receive access to many other benefits. Register now!
Network of experts and users
The community knows and supports each other. What experiences have other companies had? Can I perhaps adapt procedures for digitalisation? In the XiTrust User Group you will find someone who can help you.
Constructive dialogue with XiTrust
Exchange ideas with our development department! Your feedback flows directly into the further development of MOXIS.
Exclusive community events
In addition to regular online Come2gethers, we organise an exclusive community event every year for all members of the XiTrust User Group.
Numerous industry-leading companies have already digitized their signature processes with MOXIS.
When will you start?